off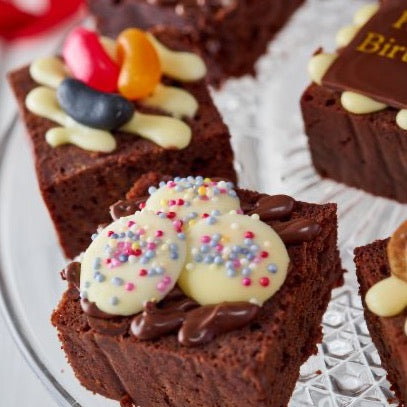 Product Code: OC1368
Sweetie Birthday Cake Selection Box
Was £13.95

£11.63 ex VAT
Now £11.16*

£9.30* ex VAT
*When Using Discount Code
Say Happy Birthday with a fabulous selection of Mini Chocolate Cakes topped with delicious retro sweets. Perfect for ordering to the office and sharing with a colleague on their special day. With 9 pre-sliced mini cakes there's no washing up either!
Inside their delivery box they'll find a choice of beautifully decorated cakes. Each one is the perfect size for a couple of mouthfuls and with 9 inside they are easy to share - you don't even need to find a knife to cut and slice the cake.
Baked and decorated by the Original Cake Co. using traditional techniques and the finest quality ingredients, these cakes are simply delicious. The base is a sumptuous smooth and decadent chocolate cake, topped with delicious retro style sweets including Jelly Beans, Dolly Mixtures, Rainbow Buttons and Chocolate Beans. We've even hand-piped the words Happy Birthday on the cake for you.
*All cakes are hand decorated so may vary from those illustrated.
 9 Chocolate Cakes With Decoration
Each Cake Approx 50g & 45mm x 45mm x 35mm
Package Size: 193mm x 180mm x 55mm
Contains: Egg, Milk, Nuts, Soya, Wheat
Not Suitable For Vegetarian (Dolly Mixtures)
 Presented in a stylish gift box with clear viewing window
Order within for delivery on
Order within for delivery on
Over 95 Years' Experience
British Business (Over 100 Employees)
Sweetie Birthday Cake Selection Box